CELTA ONLINE
100% ONLINE CELTA courses on ZOOM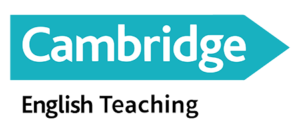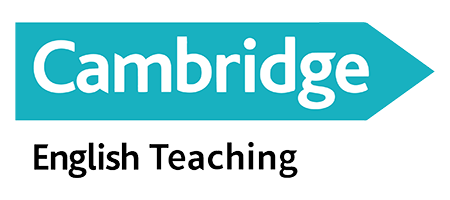 Work during the week and do the course on weekends (Sat, Sun) or in the evenings (Tues, Wed, Thurs)!
CELTA is the international Cambridge Teaching qualification that comes with career opportunities around the world!

Ask questions about ONLINE CELTA: celta@lang.com.pl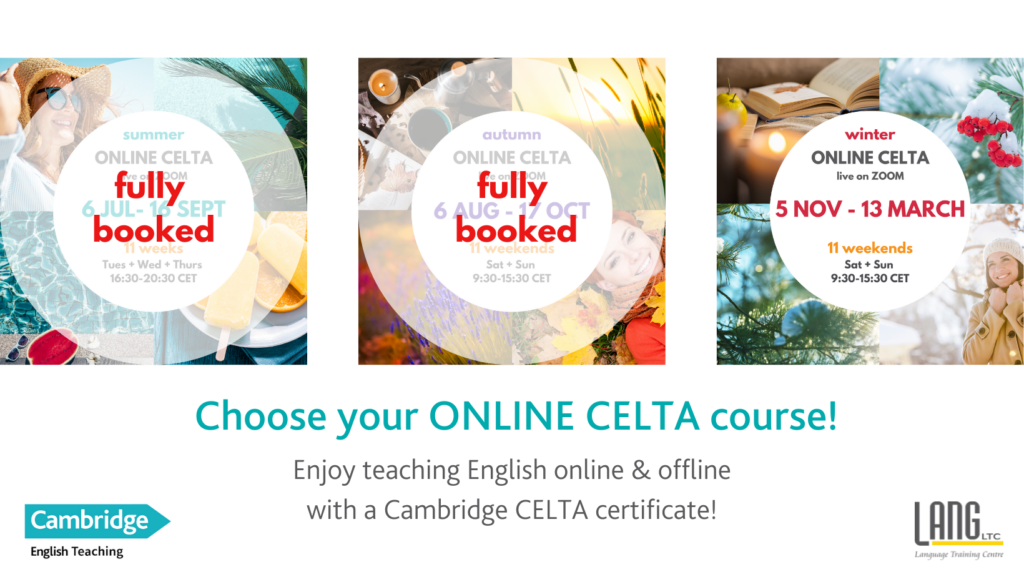 A Cambridge CELTA Assessor about our centre:
This centre continues to provide a course of very high calibre. This team of tutors worked extremely well together to support and guide trainees throughout the course.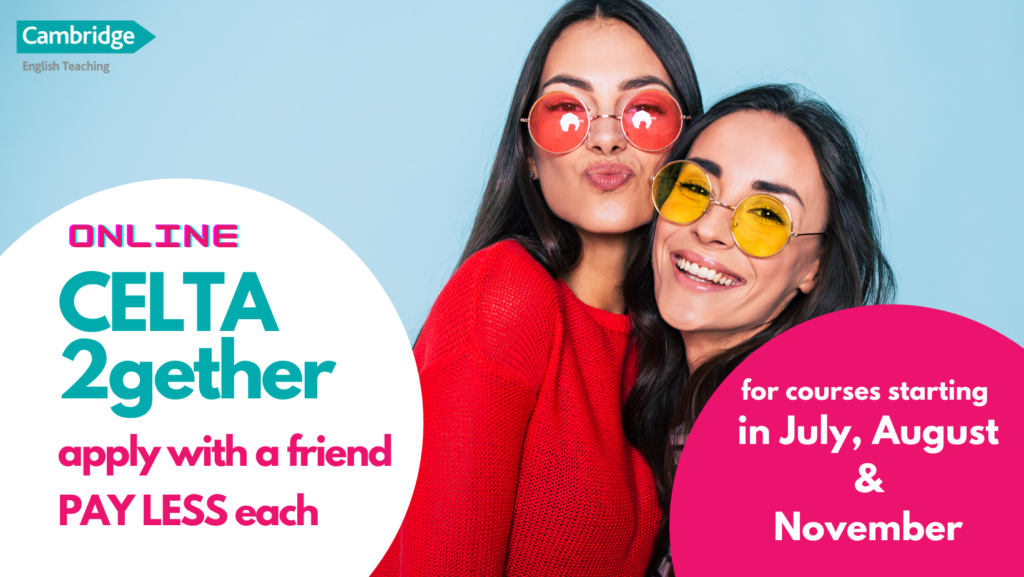 CELTA 2gether FEE: PLN 4700  | EUR 1026 
apply with a friend for the courses  starting in JULY, AUGUST or NOVEMBER
each of you pays PLN 4700 | EUR 1026  (even if only one person gets accepted)
you save up to PLN 600 | EUR 194 each
CHOOSE YOUR COURSE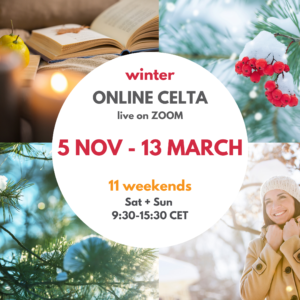 APPLY NOW!
ONLY 1 PLACE LEFT!
100% ONLINE

CELTA COURSE 
11 WEEKENDS 
winter
start: 5 November'21
 100% ONLINE TEACHING PRACTICE & INPUT SESSIONS on ZOOM
live ZOOM sessions:
Saturday-Sunday 
9:30-15:30 CET
+  your self-paced self-study time:  ca. 80 hours
Every weekend course starts with a 90-minute pre-course Friday webinar to meet the team before the first Saturday.
Start: 5 November 2021
Finish: 13 March 2022
EARLY BIRD FEE: PLN 4900  | EUR 1077 
paid no later than 3 weeks before the course starts
STANDARD FEE: PLN 5300  | EUR 1220
paid in the last two weeks before the course starts
COURSE DATES
This is a less intensive course (some weekends are free).
5 November  – Friday – pre-course webinar
SESSIONS:
Saturday and Sunday, 9:30 – 15:30 CET (Warsaw time)
6-7 November
13-15 November
20-21 November
one weekend off
4-5 December
11-12 December
three  weekends off (Christmas and New Year)
15-16 January
22-23 January
one weekend off
5-6 February
one weekend off
19-20 February
one weekend off
5-6 March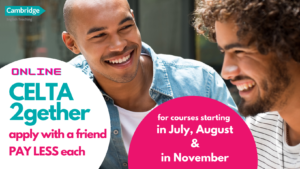 HOW TO APPLY FOR THE COURSE?
CELTA APPLICATION PROCESS
1. Submit your application online (hit the CLICK TO APPLY button on this site).
2. Complete pre-interview tasks (sent to you via email).
3. Take part in an interview ( online via Zoom, 60 minutes, at a date convenient to you and the tutor).
4. If successful, after you receive a letter of confirmation, sign the course agreement and pay the course fee.
5. Complete pre-course tasks before the course starts.
WHO CAN APPLY? IS THIS A COURSE FOR YOU?
WHAT'S CELTA?
The most internationally recognized English Language Teaching certificate in the world.
Quality control – the highest standards assured by Cambridge English Language Assessment.
It's a fusion of theory and practice – combines a practical approach to methodology and extensive supervised teaching practice.
CELTA is NOT an exam or test. You obtain a certificate after completing the course once you have met all the Pass criteria.
The online course follows the same Syllabus as the face-to-face course and the certificates are identical. The mode of delivery (f2f or online) is not mentioned on the certificate.
WHO IS IT FOR?
Everyone! It was originally intended as an introductory course for people with little or no previous English language teaching experience or training. However, its unique blend of theory and practice, especially the teaching practice component, make it ideal for the novice and the expert alike. Whether you are looking to brush up on your skills, reinvigorate your career or start a new chapter, the CELTA is for you!
It will give you the skills and confidence to teach English to adults whether you're a recent graduate or looking for a career change or a seasoned professional.
Our candidates represent a variety of professional, age, ethnic and national groups. This course is a great option for:
 C1+/C2 users of English looking for a career change & thinking of teaching English
 Experienced & new teachers of English and other foreign languages
 College/university students who want to start teaching but lack practical preparation
 Experienced teachers looking for inspiration and guidance
 Experienced teachers fighting professional burnout
 Freelance teachers hungry for guidance and  feedback
 (Very) Young Learners teachers who want to start teaching adults
 Edupreneurs and freelancers who want to become more competitive when teaching online
 Language school owners who want to upgrade their own teaching skills
Please apply if you meet the following entry criteria from Cambridge:
 You have a standard of education equivalent to that required for entry into higher education.
 You are aged 20 or over.
 You have a standard of English (language proficiency and language awareness)  which will enable you to teach at a range of levels. The required minimum is C1+ or higher (CEFR scale). You may have a Cambridge C1 Advanced certificate with Grades B or A or a Cambridge C2 Proficiency Certificate with Grades C, B or A. Or perhaps you hold an IELTS certificate with all the skills assessed at 7.5 or higher. Whether or not you hold a certificate, your language level will be verified during the application process. The certificate is NOT always required.
You are in the time zone which allows you to participate in our real-time sessions: 9:30-15:30 CET (weekends – Sat, Sun) or 16:30-20:30 CET (evenings – Tues, Wed, Thurs).
You have a laptop/computer with a reliable, strong connection to the internet.
You have a video camera, microphone and a headset compatible with your laptop/computer.
You have a quiet place to teach online from.
You are a very confident user of the following online tools: Office Word or Google Docs, Powerpoint or Google Slides, PDF readers, Gmail.
You know how to use the basic functions of Google Drive and Google Classroom.
You know how to edit, download, save and upload files.
You know how to insert images into slides and documents.
You have experience in using Skype and/or ZOOM for video calls.
You are good at organising your online resources into folders on your desktop or in the cloud.
You can use Whatsapp on your mobile device or on your laptop/PC.
You can find more tech-related requirements right below.
WHAT EQUIPMENT & SOFTWARE DO YOU NEED?
CELTA 2gether  FEE
when you apply with a friend
PLN 4700  or EUR  1026
---
EARLY BIRD  FEE
pay no later than 3 weeks before the course starts
PLN 4900  or EUR  1077
---
STANDARD   FEE
pay in the last two weeks before the course starts
PLN 5300  or EUR  1220
---
Our CELTA COURSE FEE is all-inclusive & contains:
all Cambridge TQ fees
tech  tutorials
pre-course preparation tasks
120-hours of tuition from fully qualified, experienced Cambridge Teaching CELTA tutors, who are also active online teachers
all the resources needed to complete the course (online coursebooks, reference books, journal articles, etc.)
access to Moodle platform with self-study resources up to 6 months after the course ends
lessons with  international groups of lovely students (adult learners)
a multicultural team adventure online
an end-of-course celebratory ZOOM party
shipment of your certificate (if needed)
---
HOW & WHEN TO PAY
To secure a place on the course, you need to pay a  non-refundable deposit of 1000 PLN  (or 250 EUR) no later than 48 hours after you receive the email of confirmation.
The balance is due before the course start date (see the due date in the contract)
You can pay in instalments but the whole fee has to be paid before the course starts.
No payment can be completed UNTIL the candidate receives the email of confirmation from the centre.
---
PAYMENT METHODS
BANK TRANSFER
In the DESCRIPTION box, type: your-name-surname_ONLINECELTA
Payment in PLN  
LANG LTC SP. Z O. O.
ul.  Sędziowska 5, 02-081 Warszawa
IBAN: PL61 1090 1870 0000 0001 3458 1763
SWIFT: WBKPPLPP
Santander Bank Polska S.A.
Jana Pawła II 17, 00-854 Warszawa
Payment in EUR  
LANG LTC SP. Z O. O.
ul.  Sędziowska 5, 02-081 Warszawa
IBAN: PL73 1090 1870 0000 0001 4497 2381
SWIFT: WBKPPLPP
Santander Bank Polska S.A.
Jana Pawła II 17, 00-854 Warszawa
E-PAYMENT (PayPal, credit card, przelewy24)
In the DESCRIPTION box, type: your-name-surname_ONLINECELTA
Please click on the button that matches your preferred  currency (PLN or EUR) and the fee you are eligible for:
CELTA 2gether – when you apply with a friend
EARLY BIRD – when you pay 3 or more weeks before the start date (see the date in the contract)
STANDARD – when you pay  last minute, in the last two week before the start date (see the date in the contract)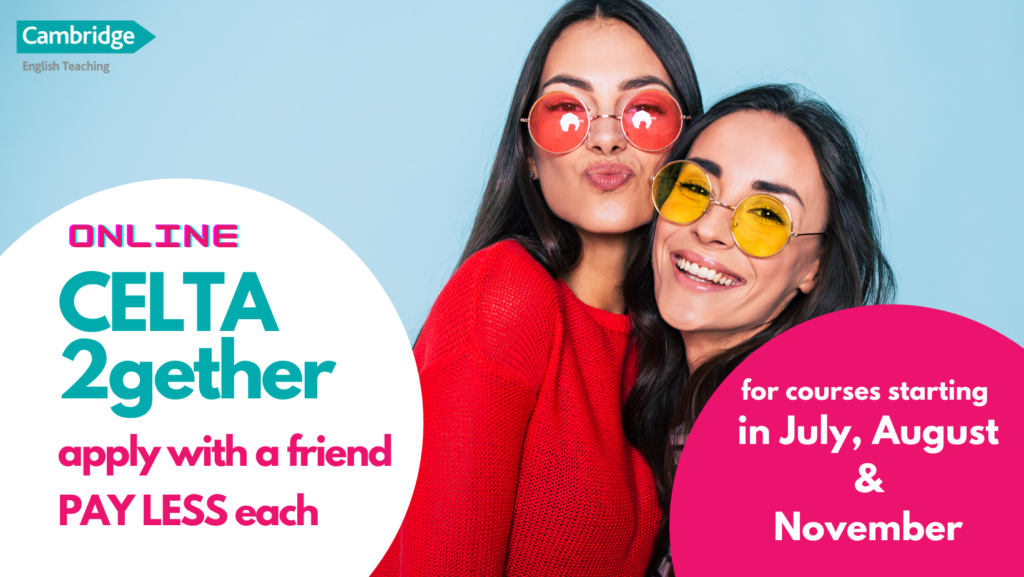 CELTA 2gether FEE: PLN 4700  | EUR 1026 
apply with a friend for the courses  starting in JULY, AUGUST or NOVEMBER
each of you pays PLN 4700 | EUR 1026  (even if only one person gets accepted)
you save up to PLN 600 | EUR 194 each
WHY JOIN A COURSE AT OUR CENTRE?
ABOUT THE CENTRE – LANG LTC PL 090
Based in Warsaw, at LANG LTC, we have been a major force on the Polish ELT scene for nearly 30 years, enjoying fruitful relationships with PASE (Polish Association for Standards in Language Education) since 2002 and Cambridge since 2009. A thriving Cambridge English Examination Centre for the last 12 years, we have enjoyed the status of a Platinum Centre since 2013, the highest accolade accorded by Cambridge. You can take your TKT, DELTA Module 1 exam and IELTS at our centre.
In Poland, we are the only CELTA centre that established its strong position as a quality CELTA course provider without affiliation with any international chain of schools. We have developed our course format independently while learning from and with the best Cambridge CELTA Tutors and Assessors.  Aeddan Shaw, Sandy Millin, Alex Tilbury, Amanda Davies, Adrian Post and Sarah Jane Findlay were among the amazing tutors who worked with us over the years and still belong to our CELTA family.
The centre we created meets the highest Cambridge English standards,  as confirmed by every single Cambridge Assessor's report, which motivates us to learn from every single CELTA course we run.  We do not just give feedback, we take it gladly. When doing your CELTA at LANG LTC, you can count on professional guidance, tonnes of inspiration, a personal touch, a cosy atmosphere and … we will always have time for you.  LANG LTC's fully qualified, experienced tutors form a close-knit team of  Cambridge Accredited CELTA Tutors, based at the centre: we know each other,  like each other and enjoy creating a positive learning environment: our team spirit is infectious.
As a respected teacher training centre, LANG LTC has been the force behind popular teacher training initiatives, such as TWIST conference for teachers, Lesson Festival, PLANetarium, STORYlicious, TKT Young Learners and TKT CLIL Primary courses. We cooperate with over 300 teachers all over Poland as well as 60 internationally renowned corporate clients and 30 partnership schools.
We combine professionalism with a friendly face, the highest standards with an ethics of care.
ABOUT OUR COURSES
Our courses take 11 weeks or weekends. They are perfect for people who want a slower pace and need to keep their commitments during the week.
You meet tutors and students in real-time during live video sessions, human-to-human online.  You don't learn passively on an online platform but actively, in conversations with tutors and your colleagues.
You need to attend all the sessions that take place.
A typical day includes the following live video  online meetings on ZOOM:
Guided Lesson Planning with Tutors (before your assessed lessons)
Teaching Practice (observed and assessed 45-minute  lessons, 1 lesson per week, 8 lessons in total)
Lesson Observations (every week)
Group Feedback (every week)
Individual Tutorials ( twice during the course)
Input Sessions ( every week – interactive workshops)
Guided Study Time (self-study time and Q&A when you can ask Tutors questions about written assignments)
You also need to make time for self-study during the week: it is up to you when. In total, you will need ca. 80 hours for self-study per course (ca. 8 hours per week).
In 2021, we run two types of ONLINE CELTA courses :
LESS intensive (winter weekends): there are some weekends off between CELTA weekends
MORE intensive (summer and autumn): you take part in mid-week or weekend sessions 11 weeks in a row, back to back
From our experience, full-time ONLINE courses (5 weeks) are extremely demanding because of screentime fatigue. Because our trainees' wellbeing is our priority, we offer 11-week courses. The  ONLINE CELTA courses at our centre ensure enough time off-screen between the course sessions.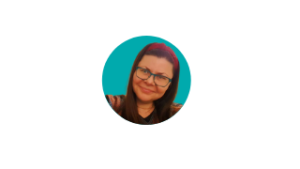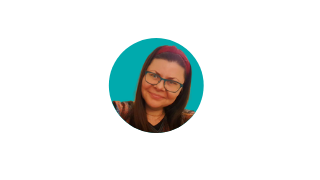 Milada Krajewska, Head of Celta, Main Course Tutor, and Online Tutor at PL 090 Lang LTC Examination Centre. Milada is a teacher, ELT trainer, certified online tutor, ELT author and independent materials designer. As an experienced CELTA tutor, she has been working on both face-to-face and online courses, with teacher training centres around the world (mostly, in sunny locations, including Spain, The Canaries, and Italy) as well as on her home turf and her favourite Polish CELTA centre: PL 090 LANG Examination Centre in Warsaw, Poland. She also trains CELTA tutors and helps to set up new CELTA centres. With an MA in English Studies and TEFL and a postgraduate diploma in Business Training, she's been teaching and learning from her students of all ages for 23 years.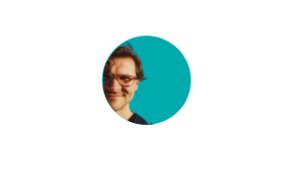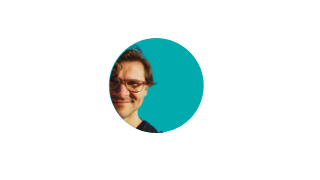 Grzegorz Południak, Assistant Course Tutor and Online Tutor. With degrees in ELT and Cultural Studies, Greg has been enjoying his role as a teacher of English since 1999, working with students in Poland and the UK, both online and face to face.  A certified teacher trainer with a DELTA diploma, Greg started training teachers over a decade ago.  He is also a Cambridge and IELTS speaking examiner and an ELT conference presenter. As a great fan of a 'more learning, less teaching' approach, he is always on the lookout for new methods of increasing learners' engagement and delights in learning from his trainees. His CELTA Tutor adventure began in 2017, and he is a tutor who brings into the CELTA classroom active listening, experience, practical approach and humour.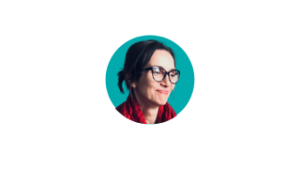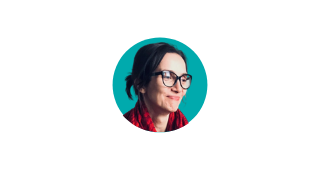 Beata Palińska, Main Course Tutor and Online Tutor at PL 090 Lang LTC Examination Centre. Beata is a freelance teacher and CELTA tutor working with PL 090 LANG Examination Centre in Poland and CELTA centres in Spain and the Canaries, both as a face-to-face and online Tutor. She holds an MA in English Studies and TEFL, a DELTA diploma, and she is a certified teacher trainer and online tutor. With over 17 years of teaching experience with all age groups, she's been training teachers, leading a teaching team as a Director of Studies, organising ELT conferences, working as a Cambridge oral examiner and designing teaching materials.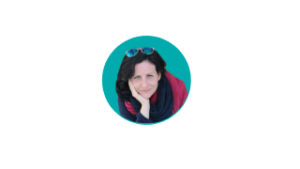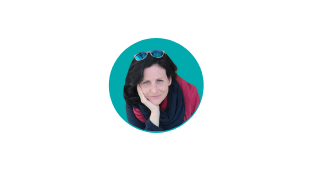 Karolina Bekker-Łukaszewicz, Assistant Course Tutor and Online Tutor,  is a graduate of the Institute of Applied Linguistics at the University of Warsaw, where she studied English and German. She has been teaching English to adults for nearly two decades, online and face-to-face. She is a  conference presenter, Celta Tutor and a certified teacher trainer. She believes in a tailor-made approach to teaching and is enthusiastic about adapting authentic materials to maximize her learners' engagement.  Her input and feedback sessions are beautifully designed, interactive, insightful and eye-opening.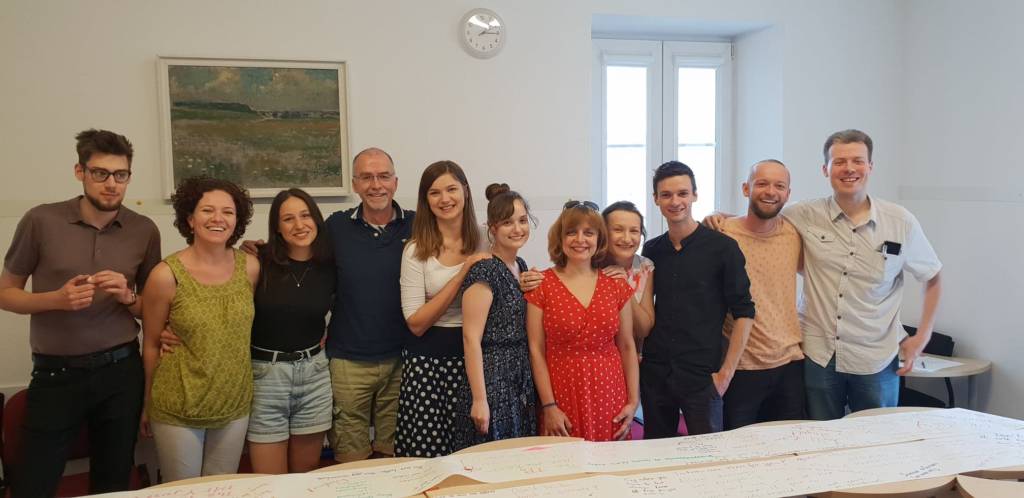 This course is challenging but the outcome is incredible. You discover new ideas, styles of teaching, methods. It's like a breath of fresh air which gives you enormous motivation to work and develop. The tutors are very helpful, the atmosphere is great and you make friends with the people who come to study here 🙂

Julia, Ukraine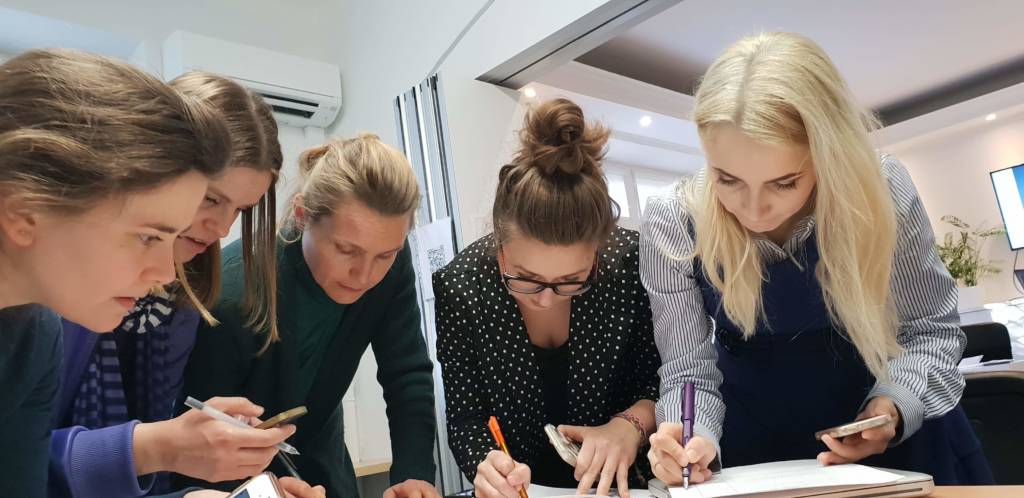 The course is amazing. It's hard, it's challenging, but also practical, useful and extremely rewarding. Worth the effort. All the sleepless nights don't matter when you've completed it.

Gosia, Poland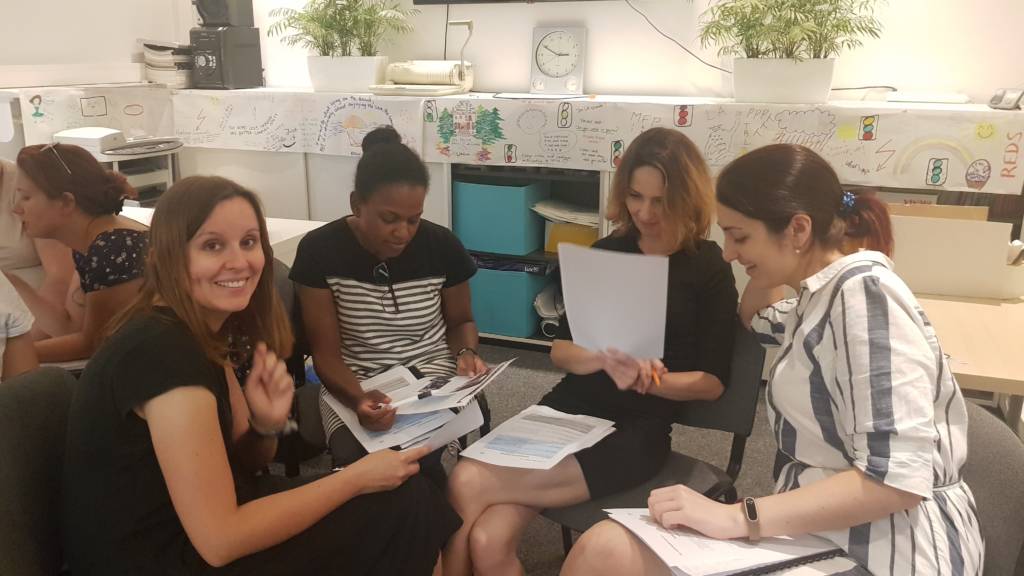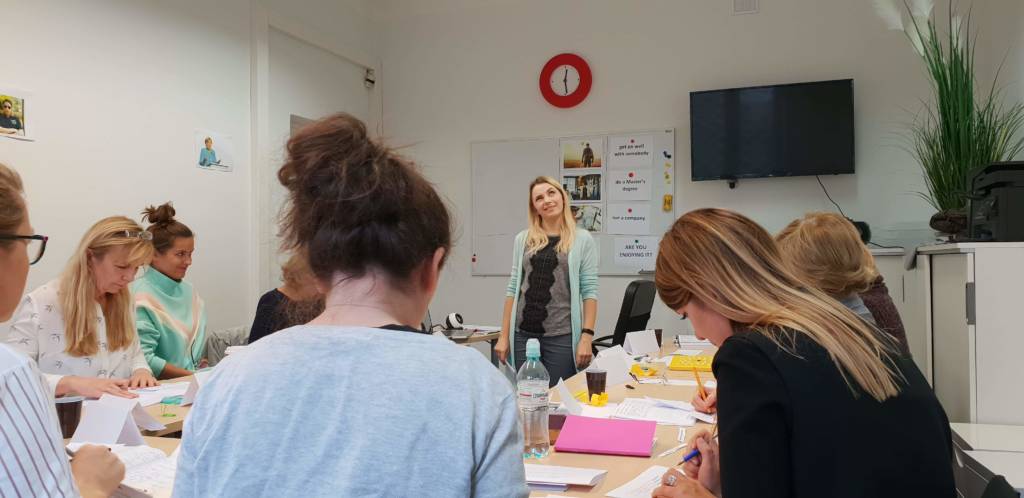 It's a great opportunity to get very detailed feedback on your teaching from experts and see teaching from a different perspective.
It is very well organized and the trainees are carefully guided towards independence. It taught me to face challenges with confidence and to understand that everyone is allowed to ask questions and make mistakes- it's a vital part of any learning process. The course helps you to fully appreciate the importance of students' well-being.

Kamila , Poland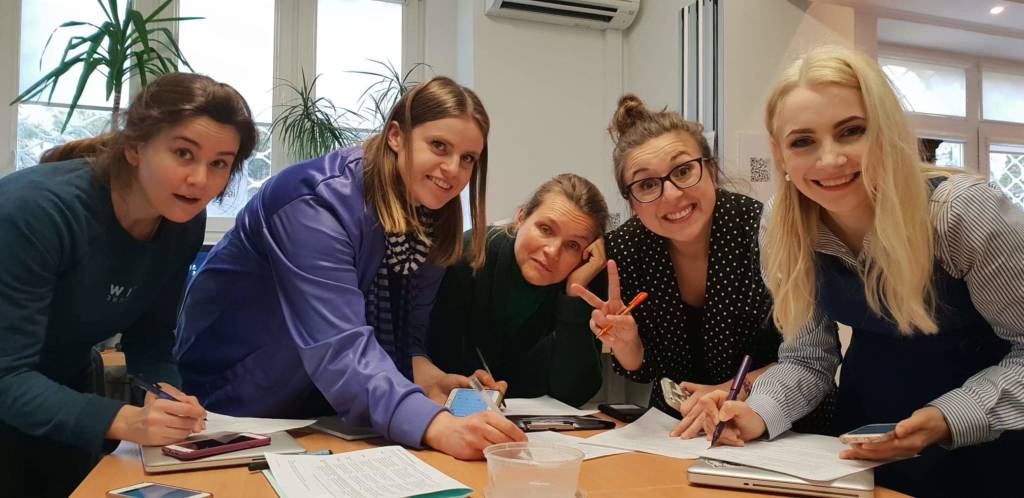 The CELTA course and everything I experienced doing it are one of the nicest memories. I learned plenty of very useful and practical things about how to teach, deal with teaching problems and how to build good relations with students and co-teachers. I also realized how crucial it is to be able to work as a part of a team. The atmosphere and the people were brilliant. I strongly recommend CELTA to everybody!

Karolina, Poland 
The material covered was comprehensive and presented in a very professional, practical, hands-on way – this was exactly what I needed. The tutors were wonderful, always available and ready to help, supportive and very specific as to what was required of us and what we were supposed to do in order to get better. Apart from that, I had a lot of fun and I met great people with whom I got really close. We could really count on each other (still can – we will definitely keep in touch). And the binder with various resources that we got in seminars is invaluable reference material for my future classes! I miss the centre already 🙂

Paulina, Poland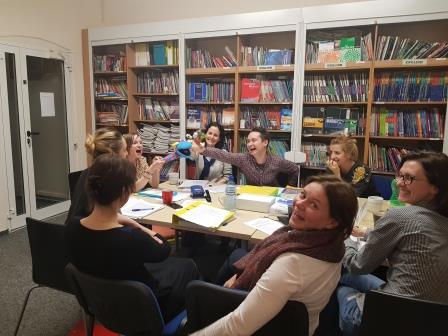 We received a lot of support. The input sessions were both information-packed and fun. I firmly believe that everyone made progress, whether they started the course as complete novices or as teachers with years of experience. I'd fully recommend completing CELTA at this particular location.

Justyna, Poland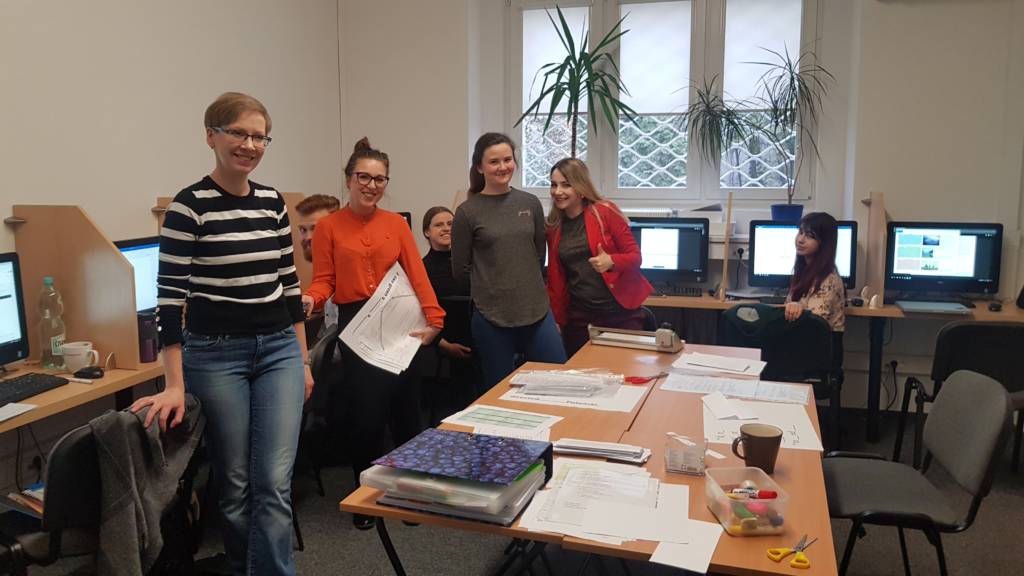 The tutors are one of the building blocks of the CELTA training course. I can happily say that all of them presented a high professional level and a range of unique approaches and teaching styles. They complemented each other and allowed the participants to benefit from a variety of teaching techniques. They were all motivating, helpful and approachable.

My advice is that the CELTA is a demanding course, but don't get discouraged! The most important thing to remember is that you will get used to the rhythm and intensity of the course. Take advantage of every day and realize this is a unique chance to learn from your tutors and peers. Remember you are here to learn and grow. Stay positive and don't worry about making mistakes!

Alex, Spain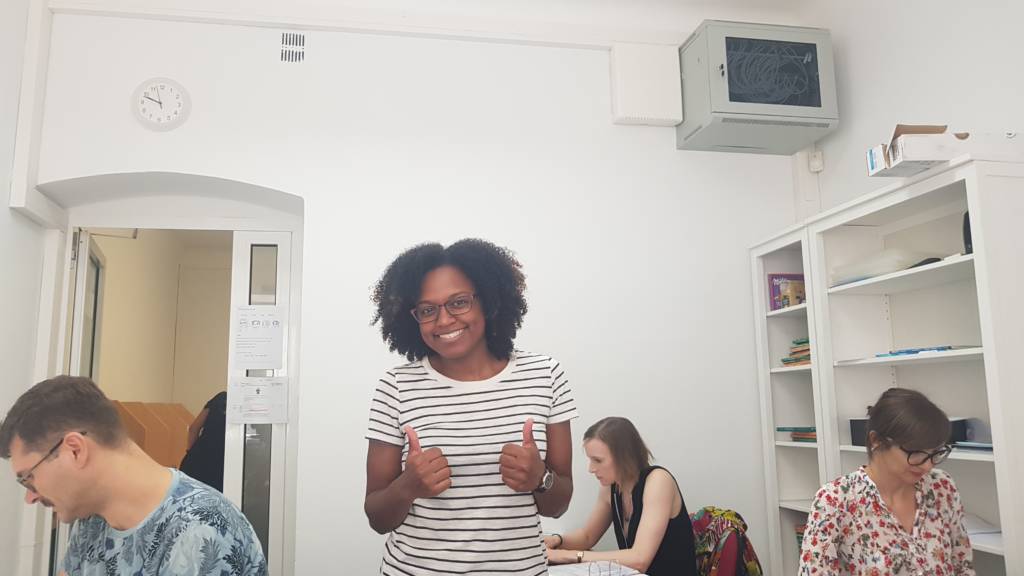 Doing the CELTA course in Warsaw was my best experience ever. The process is intense but the tutors who work at Lang in Warsaw do their best to help you. They are not only your teachers (tutors) but also friends, psychologists and advisors. They share all the knowledge a trainee needs. In general, I can say that the Warsaw centre is one of the best, and I will strongly recommend it to everyone.

Liudmila, Belarus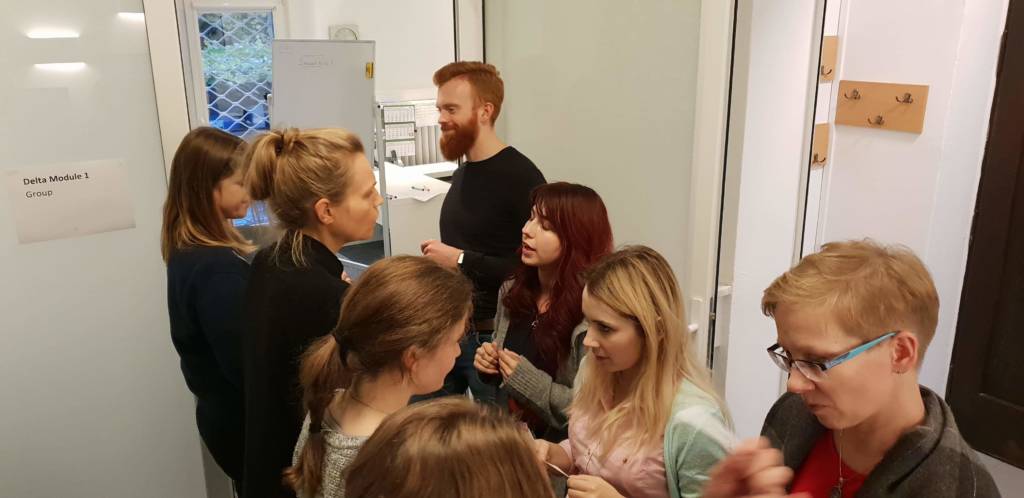 It was extremely professionally run – a top quality course and best tutors with immense knowledge. The best course I have ever participated in. Never before had I gained so much knowledge and practice at the same time. I highly recommend the course to those who are already teachers as it's a huge eye-opener that will add another dimension to your teaching. You just can't help implementing changes that make such a difference to you yourself and to your students.

Małgosia, Poland
Our trainers had diverse strengths which ensured that we learnt something different from each one of them, and the course structure was aptly designed to ensure we got what we needed when we needed it. They were always ready to lend a helping hand (or a shoulder to cry on) and the feedback was always constructive.

The course has been incredibly useful in giving me a practical and solid methodology to provide my classes with more structure and student-centred activities.

Isaac, India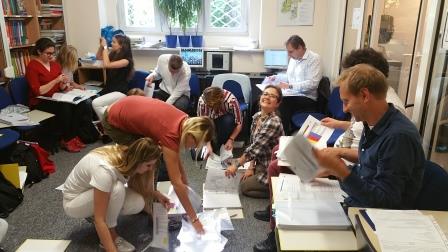 If you are still wondering whether to join CELTA in Warsaw, wonder no more. Great people and a great experience. I joined them for my spring edition in 2018 (weekends) and it was one of my best decisions last year. Not only did I meet some like-minded people from the field of teaching, but I was also able to learn plenty of new techniques that I use now on a daily basis. The whole team of tutors are fully-fledged specialists. They take care of your CELTA needs like no one else possibly could and they really know what they are doing. Just trust the process, stay patient, focus during the seminars and have fun with your students during your teaching practice. A real must for ambitious and challenge-seeking teachers!

Marcin, Poland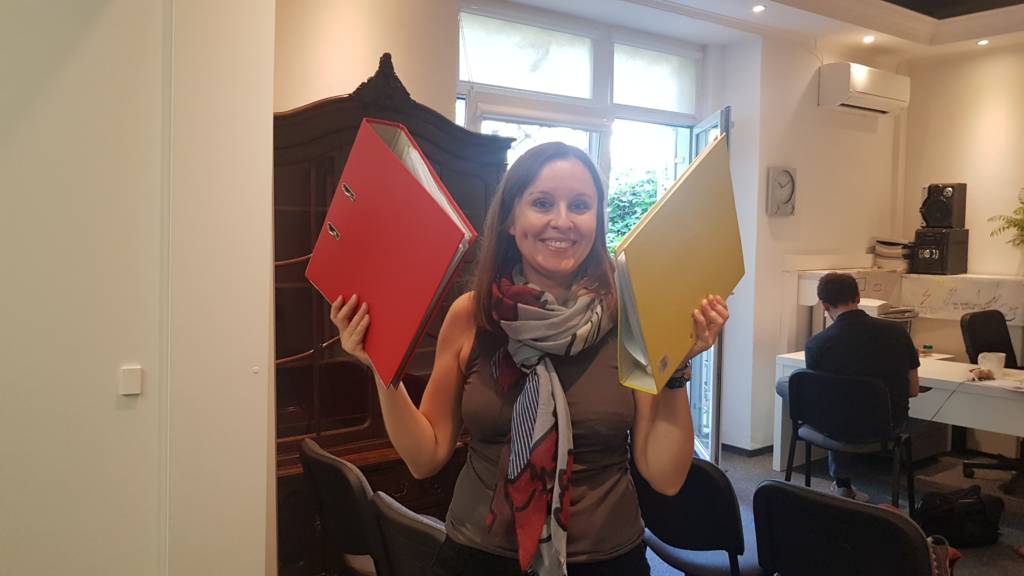 I found the course very inspiring. It shows you how to teach and how to do it in an interesting way. Taking part in the course is a very good idea for those who want to learn something more about teaching and also for those who need to learn how to teach from scratch.

Anna, Poland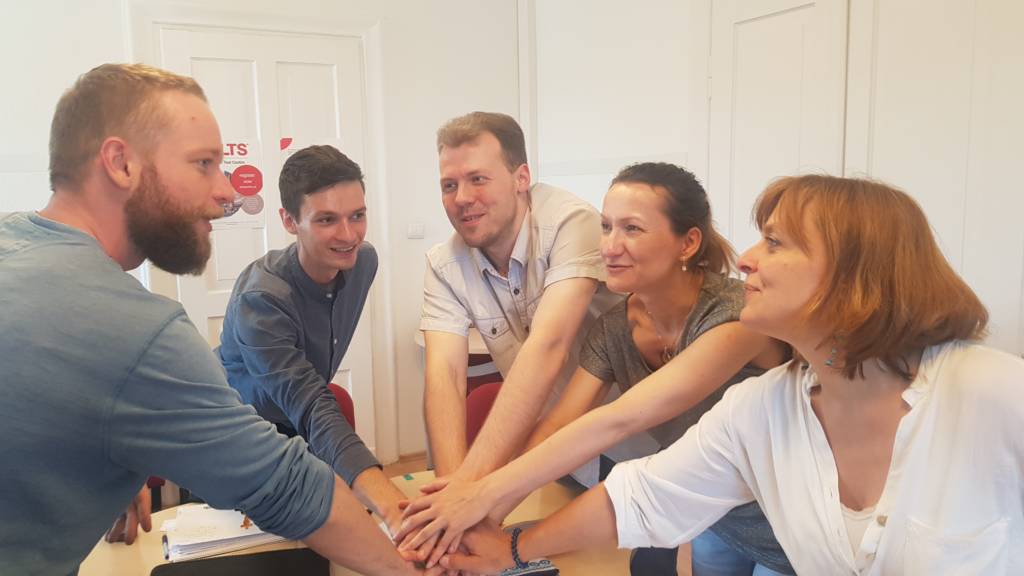 The study centre is very well-equipped with multimedia projectors, computers, WI-FI, library, etc. The tutors were very professional and supportive. The CELTA course helped me use lesson time more effectively and master my professional skills. I learnt how to make instructions more effective and create lesson plans whose structure is logical and coherent. I learnt how to use new technology in the classroom and make my teaching more brain-friendly. I would advise candidates to come to Warsaw and experience a challenging but rewarding CELTA course here.

Svitlana, Ukraine
Because it gives a complete overview of the process of teaching, it raises awareness on what is important and gives very practical solutions and tools for your future ELT career. It also provides a clear framework for preparing and running a class, which may be particularly useful for teachers with little experience.

Adam, Poland 
Ask questions: celta@lang.com.pl